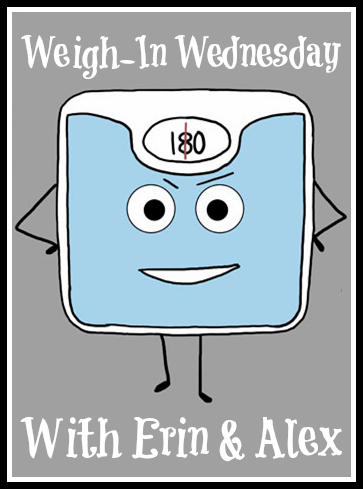 OK, here we go again, hooking up with Erin and Alex for another edition of Weigh In Wednesday. For so many weeks I had piddly little losses, 0.4 here, 0.1, there, it was ANNOYING! I feel like I've broken through those days, I've stepped it up on the treadmill a little bit, am running a little more than walking, perhaps that's what has helped me step it up a bit. This week I LOST 1.6 pounds. This brings me to 201.8, I've lost a total of 13.4 lbs. since rejoining Weight Watchers November 30, 2012.

Now my next hurdle....getting PAST 200 into WONDERLAND! This is traditionally VERY hard for me, I tend to bounce above and below milestone weights. I'm not going to let that happen this week. My goal, and I'm writing it down RIGHT HERE FOR THE WORLD (or all 35 followers) to see. I want to be 199 or less at my next weigh in. That would be a loss of 2.8 pounds. I think I can do it. I'm GOING TO TRY MY HARDEST TO DO IT.

Each week at the Weight Watchers meetings, we are asked to commit to something this week and write it down. I'm going to commit to re-reading all the Weight Watchers material I've been given. It's been 10 weeks since I started, I read it all once, but I'm sure there's lots more I can learn by re-reading it. My first week on the plan I lost 6.6 pounds. Maybe I should go back to my food journal from that week and eat exactly the same things. That would be interesting to see if I lost the same amount. Hmmmm, something to think about!

How did you do this week?